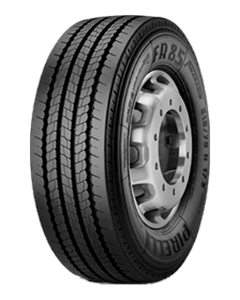 205/75R17.50 PIR FR85 124/122M
All Position tyre for medium-heavy vehicles with use on roads causing moderate wear and tear. Excellent comfort and drive ability.
TREAD DESIGN
• Four circumferential grooves, external grooves ensure directional stability.
• Dense siping promotes even wear and ensures excellent grip.
• Increased tread width enhances mileage in medium to high severity conditions.
• Sidewalls, reinforced with ribs, offer a higher resistance to impact and abrasion.
TREAD COMPOUND
Dual-layer technology, based on the use of two different compounds, each with the following characteristics:
External compound
• Excellent mileage.
• Optimum grip on wet surfaces.
Internal compound
• Enhanced mechanical and hysteretic properties.
• Reduced heat production during operation.
• Improved tyre integrity and tyre life.